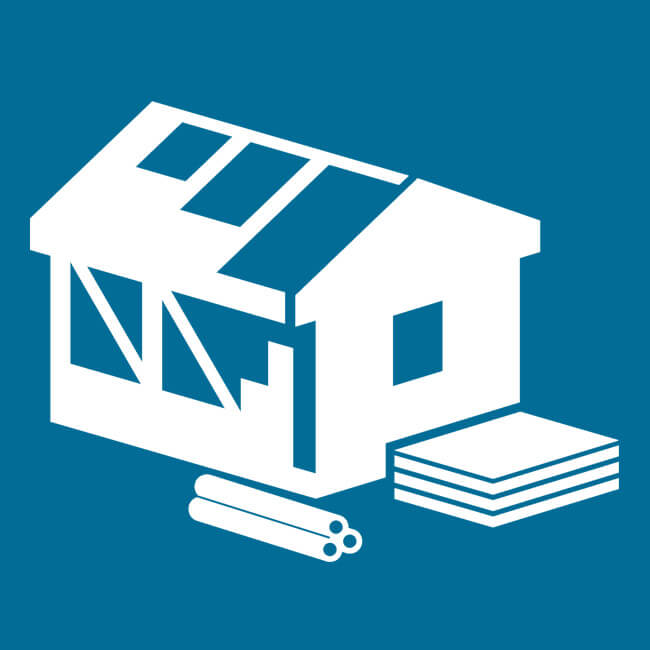 Ideally, we'd like to inspect your property-in-progress at three separate times during construction: Pre-backfill, Pre-drywall, and Final. It is not always possible to conduct all three inspections simply due to scheduling difficulties. The more notice you can give us of your needs, the better we are able to serve you. We suggest you become familiar with these three stages, check the progress of the construction yourself whenever possible, and let your builder know you plan to conduct all three staged inspections so he or she can help keep you apprized of the construction progress.
Phase 1 – Pre-backfill Inspection
In order to view and evaluate the footings, exterior foundation wall pargeting, exterior perimeter drain tiles, and foundation ties (all of which will later be hidden by soil or wooden framing members), we conduct this inspection prior to the replacement of the backfill soil around the exterior perimeter of the foundation. The Pre-backfill Inspection is billed on an hourly basis and rarely exceeds one hour on site unless the property is exceptionally large.
Phase 2 – Pre-drywall Inspection
The purpose of this inspection is to ensure that the electrician with his cables and wires, the plumber with his pipes, and the heating/air conditioning contractor with his ductwork, have not created any structurally significant changes to the framing in order to install his items. The house is usually ready for this inspection once it is under roof, the windows and doors are in place, and all framing is complete. It is also important that each of the three aforementioned contractors have completed their "rough ins" before we conduct this inspection. The Pre-drywall Inspection is billed on an hourly basis and normally takes one-and-a-half to three hours on site unless the property is exceptionally large.
Phase 3 – Final Inspection
As with the Pre-purchase Inspection, the house should be ready to be lived in; in other words, all systems and appliances should be hooked up and operational before we conduct this Final Inspection. Most builders prefer that this inspection occur immediately before or after your "walk-thru" inspection. We prefer that our inspection be made before the walk-thru so that any defective areas we find can be included in the punch-list that you and the builder develop at the walk-thru. This inspection is billed at the same standard inspection fee structure as a Pre-Purchase Home Inspection, which varies according to location and value. Call today for a price quote!
(301) 588-1318
Mon – Fri (9:00 A.M. to 5:00 P.M.)